VPixx Technologies is a privately held company serving the vision research community by developing innovative hardware and software tools for vision scientists. Founded in 2001 by Peter April, VPixx Technologies has built an international reputation for supplying quality instruments to researchers and teachers in the fields of visual psychophysics, electrophysiology, cognition, and fMRI. Today, our team of trained vision scientists, developers and engineers continue to provide solutions for researchers pushing the boundaries of our knowledge of the visual system and the brain.
Our revolutionary VIEWPixx and DATAPixx graphics and data acquisition systems provide vision scientists with a hardware toolbox implementing high performance video, analog I/O, digital I/O, and audio I/O, all with microsecond synchronization to video refresh. Our research-grade DLP projector, the PROPixx, provides a refresh rate of up to 1440 Hz and a fully linear gamma for precision control of visual stimuli, and is MRI and MEG compatible. The TRACKPixx3 2 kHz binocular eye tracking system is seamlessly integrated with our data acquisition systems and displays for streamlined experiment control. Scientists can integrate VPixx hardware into their own ANSI C, Python or MATLAB programs using our software APIs.
VPixx Executive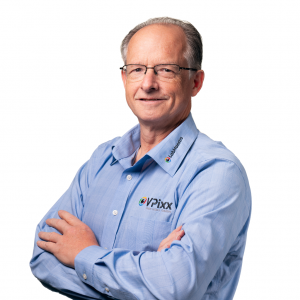 Peter April, BCompSc
CEO
In 1983, Peter April began work as a computer programmer at the Concordia University Vision Lab, while simultaneously beginning a Bachelor's degree in computer science. During these years, Mr. April wrote a wide range of programs for presenting visual imagery as well as collecting and analyzing data. He also designed and constructed specialized electronic hardware including an eye-tracker and a graphics board for collaborative research with CAE Electronics of Montreal (a manufacturer of flight simulators).
In 1997 Mr. April developed the first version of the VPixx visual testing program in collaboration with a consortium of research labs. Recognizing that many vision labs required specialized imagery which could not be generated by commercial graphics boards, Mr. April also developed the VPixx Graphics Adaptor. While serving a growing number of researchers, Mr. April has had the opportunity to develop innovative tools in many fields, including an optical instrument for imaging the retina, and a medical instrument using audio evoked potentials to measure the level of consciousness of a patient during surgery.
Today Mr. April continues to serve his clients, meets with researchers at international conferences, and leads VPixx Technologies in its quest to create innovative tools for the scientific community.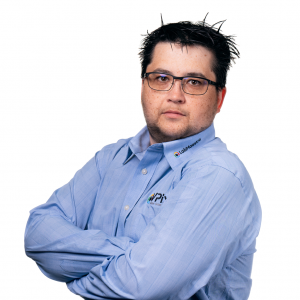 Jean-François Hamelin, Eng
Vice President
Today, Mr. Hamelin leads the VPixx Technologies manufacturing department and is responsible for the hardware design of current and future tools to be used by the scientific community.
In 2001, Mr. Hamelin graduated from Montreal's École de Technologie Supérieure (ETS) with a Bachelor's degree in electrical engineering. In 2009, as a new shareholder of the company, Mr. Hamelin contributed to the design and production of the new generation of VPixx products. He brought to the company a strong background in quality control as well as electrical and mechanical design, which he acquired while working in the avionics sector between 2001 and 2009.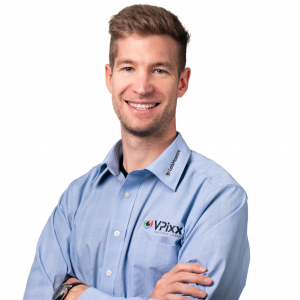 Sébastien Blanchette, CPA
CFO
Mr. Sébastien Blanchette is a licensed Chartered Professional Accountant. He joined VPixx Technologies Inc. in 2015 with the challenge of ensuring the financial and operational performance of the company's various departments.
Prior to joining VPixx, he implemented a manufacturing company's complete accounting system, to validate and establish the profitability of projects as well as their effectiveness and efficiency. Today Mr. Blanchette directs the accounting department, as well as VPixx human resources.
Our Scientists
Sophie Kenny, Ph.D.
Sophie has been a Staff Scientist for VPixx since 2018. She enjoys developing cognition and perception experiments using specialized research equipment and published research papers using eye tracking, motion capture, virtual reality, fMRI, and the PROPixx projector's 480 Hz video mode. At VPixx, she leverages her interest for education and her wide-ranging research experience to increase researchers' understanding of the technology behind VPixx products and increase the quality of their data acquisition and interpretations. Sophie obtained her Ph.D. in Brain, Behaviour and Cognitive Sciences from Queen's University in 2017 and also worked as a postdoctoral researcher at the University of Waterloo.
Lindsey Fraser, Ph.D.
Lindsey completed her PhD at York University in Toronto, Canada in 2019. Her research interests are in psychophics, multisensory perception and sensory integration. As a graduate student Lindsey also served on multiple boards as a student representative, and organized Virtual Reality workshops and networking events for graduate students. Lindsey's favourite part of research is experiment design– building, coding, and testing. Since joining VPixx in 2019, Lindsey has become both scientific consultant and techical support for VPixx tools. As part of her role, she develops training materials for all levels of scientists, advises on equipment layout and integration, and helps troubleshoot experiment design challenges. She enjoys helping new and existing VPixx users take advantage of the precise, powerful research equipment VPixx has to offer, to design leading edge research protocols and collect high fidelity data.
Jonathan Tong, Ph.D.
Jonathan completed his PhD in the Department of Psychology, Neuroscience and Behaviour at McMaster University in 2014. Since then, he has completed postdoctoral fellowships at Universität Hamburg (Germany), studying audiovisual integration, and at York University's Centre for Vision Research, studying stereoscopic depth perception in virtual environments. He has a general interest in the neuroscience and psychophysics of spatial perception across multiple sensory systems, but has recently focused on the perception of depth in vision and how it can be distorted by optics.
The Team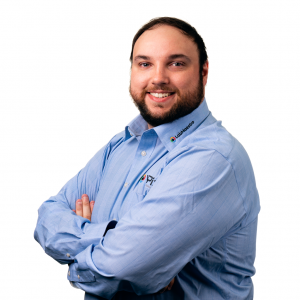 Danny Michaud-Landry, B.Sc.
Technical Support Manager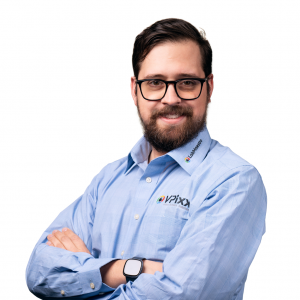 Nicolas Gauthier, B. Eng
Lead Software Developer
Product Owner – LabMaestro Pack&Go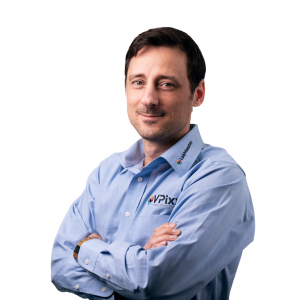 Jonathan Gauthier, Eng
Product Owner – DLP Projectors
David Pagé, B. Eng
Product Owner – TRACKPixx3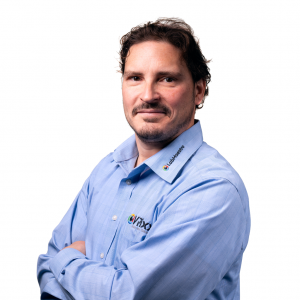 Mathieu Janson
Product Owner – LabMaestro Builder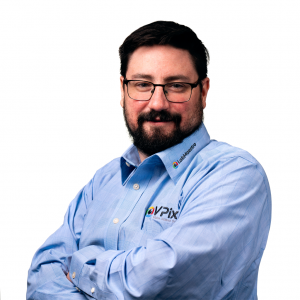 David Thibodeau, Ph.D.
Software Developer
Samuel Caron Rollin, Jr. Eng
Mechanical Designer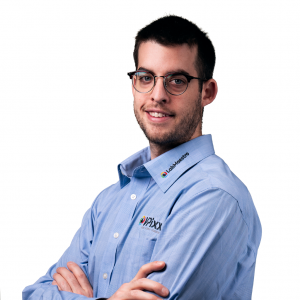 Samuel Lafond
Electrical Designer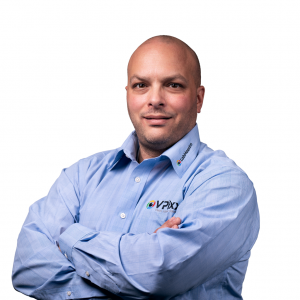 Marc Renaud
Senior Technician
Frédéric Lafond
Electronics and Quality Control Technician